Creamy Peanut Soup aka PB Soup for Jake – Recipe from Unfinished
Knowing Jake's fondness for peanut butter how could Nicole resist making this soup for him? Peanut Soup has a mild peanut taste and is a delightful comfort food. A few recipes for this soup are spicier–see Recipe Variations below. I make this mild (as written) then add red pepper flakes at the table. Enjoy.

Adapted from King's Arms Tavern recipe
Colonial Williamsburg, Virginia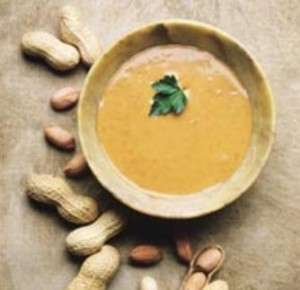 Serves 8 (Makes just a bit more than eight 1¼-cup servings)
Ingredients:
4 Tbsp butter
¾ cup minced onion
2 celery ribs, finely chopped
Scant ¼ cup flour
8 cups chicken stock (low-sodium, low-fat works fine)
2 cups smooth peanut butter
1¾ cups light cream or half-and-half (can use fat-free half-&-half)
1 or 2 small pinches of sugar
½ cup crushed or finely chopped salted peanuts
Instructions:
In a large heavy saucepan or small soup pot, melt the butter over medium heat. Add the onion and celery and sauté until softened, 3 – 5 minutes. Stir in the flour and cook 2 more minutes.
Pour in the chicken stock, increase the heat to high, and bring to a boil, stirring constantly. Reduce the heat to medium and cook, stirring often, until slightly reduced and thickened, about 15 minutes.
Whisk the peanut butter, cream, and sugar into the liquid. Warm thoroughly over low heat, whisking often, for about 5 minutes, being careful not to bring to a boil. Serve warm, garnished with the chopped peanuts.
Recipe Variations:
Add a pinch of red pepper flakes along with the chicken broth for a little heat.
Add a squeeze of lemon to each serving to brighten the flavor or offer lemon wedges at the table.
Many recipes call for the vegetables to be pureed after cooking in the broth. Some use a stick blender for this. Some recipes strain the liquids through a sieve. (We like the texture the vegetables add.)