Italian Beef Sandwiches – Recipe from Unfinished
Serves 14-18 (about 4 sandwiches per pound of roast)
About 15 minutes hands on time; ready in about 7-8 hours
Like Nicole, I made this recipe that many Internet sites describe as a copycat of "Portillo's Italian Beef" before I'd ever tasted the real thing.  Portillo's is a Chicago chain known for hot dogs and Italian beef sandwiches.  My version turned out to be pretty close. (And Jake did give his seal of approval.)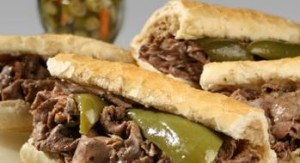 1 (15 oz) can fat-free, less sodium chicken broth
1 cup water
1 tsp black pepper
1 tsp oregano
1 tsp basil
1 tsp onion powder
1 tsp garlic powder
1 tsp dried parsley
1 (.7 oz) package Italian salad dressing mix, such as Good Seasons®
3.5-4.5 lb bottom round or rump roast
1 tsp cornstarch
Combine the broth, water, and next 7 ingredients in a saucepan.  Whisk to mix and bring to a boil. Or use the microwave.
Spray a slow cooker with cooking spray.  Cut the roast into 3-5 big chunks and place in the cooker.  Pour the hot broth mixture over the roast.
Cover and cook on Low for 6-8 hours until the meat falls apart when "prodded" with a spoon or fork.  Remove 2-3 Tbsp of the pan juices and set aside to cool.  While the juice is cooling, use a spoon or fork to shred the beef in the pot.
Whisk the cornstarch into the cooled broth then stir this mix into the cooker.  Heat for another 20-30 minutes.
Cooking note:  This is the cooking time for a newer model (hotter) slow cooker.  In our cooker, the meat is just right at 7 hours.  Adjust the timing according to your experience with your cooker.  The heat settings on slow cookers changed in the late 1990's.
Serving suggestion:  Serve on Italian rolls or French bread with sautéed onions and peppers and thin slices of provolone.  To be more authentic use hot or sweet pepperoncini. And don't forget the giardiniera (Italian relish) on the side.
Per ⅜-cup (3 oz) serving of beef, approximately 165 calories; 5.6 g. fat; 1.0 g. carbohydrates; .4 g. sugars; 0 g. fiber; 291 mg. sodium; 25.6 g. protein